The annals of basketball are rich, marked by the unparalleled feats of legends who have graced the courts with their presence. The stories of Kareem-Abdul Jabbar, Wilt Chamberlain, and Bill Russell are narrated with reverence, their exploits etched into the very fabric of the sport. Yet, before these legends stood tall, the court was dominated by another: George Mikan.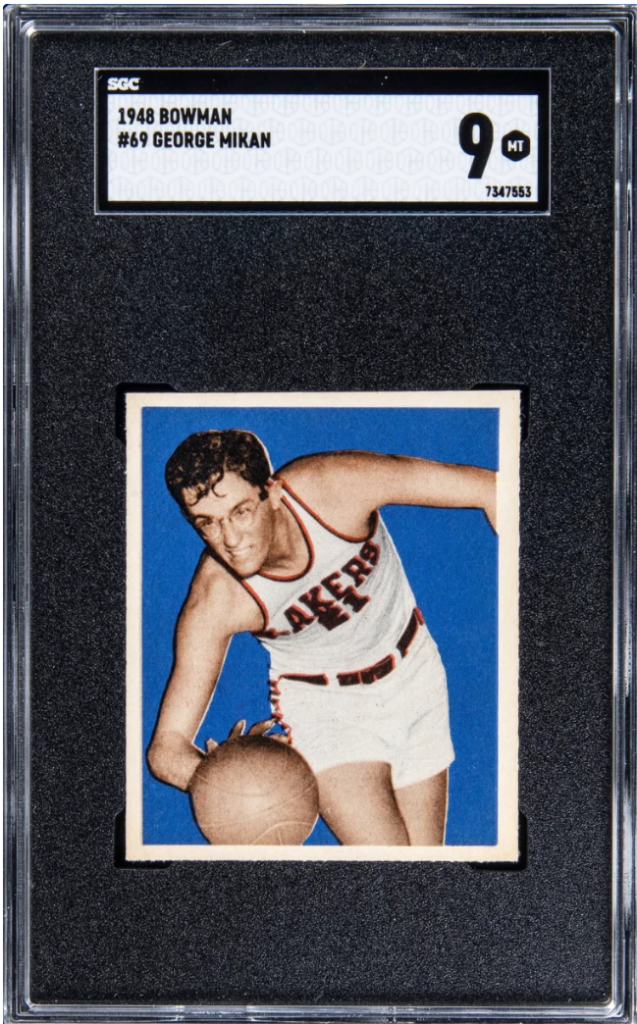 Born in Joliet, Illinois, George Mikan's journey to basketball greatness began at DePaul University. It was here that he displayed glimpses of the brilliance that would soon captivate audiences nationwide. When Mikan stepped onto the NBA courts during the transformative era of the late 1940s and early '50s, he wasn't merely playing; he was revolutionizing.
Standing at an impressive height of 6-10, Mikan brought a unique dynamism to the center position. Between 1948 and 1951, he consistently delivered performances that left fans and critics in awe, boasting scoring averages that touched the high 20s. By the time he decided to retire, his stats were a testament to his prowess: 23.1 points and 13.4 rebounds per game on average. Card Grading Services
As Mikan was rewriting basketball's playbooks, another historical shift was taking place off the court: the rise of basketball memorabilia. Recognizing the growing fandom, Bowman launched its pioneering basketball card set in 1948. However, what made this collection even more intriguing was its short lifespan, as Bowman's foray into basketball cards lasted only a year. This decision rendered the 1948 set a gem in the world of collectibles.
Amidst this treasure trove was the crown jewel: George Mikan's rookie card. This wasn't just a piece of cardboard; it was a snapshot of history, capturing a young Mikan on the precipice of greatness. This belief was solidified when a PSA 9 graded 1948 Bowman George Mikan rookie card was auctioned on eBay for a breathtaking $800,000, shattering prior records.
The significance of this card was further highlighted during a Goldin Auction event. An SGC MINT 9 graded 1948 Mikan rookie card took center stage, fetching an astounding $228,000. Goldin's annotations underscored the card's rarity, marking it as a unique piece without any known equal in existence.
The Goldin auction also paid homage to other stalwarts of the sports world. A 1984-85 Star #101 rookie card of basketball demigod Michael Jordan, with a PSA 8.5 grade, changed ownership for a notable $144,000, establishing a new price threshold for that grade. But basketball wasn't the only sport in the limelight. A relic from baseball's storied past, the 1916 M101-4 Blank Back #151 Babe Ruth rookie card with a grade of SGC 1.5 FR 1.5, was a testament to baseball's enduring charm, garnering a handsome $288,000.
Diving deeper, the valuations at these auctions reveal more than just price tags. They are emblematic of the deep-rooted respect and nostalgia enthusiasts hold for the giants of the game. It's a reminder that even as fresh talents dazzle the courts, the legacies of pioneers like Mikan remain immutable. These collectibles, beyond their market value, are time capsules preserving the essence of epochs gone by and the indomitable spirits of the athletes they represent.
Collecting sports cards is more than a hobby; it's a celebration of sports history. These cards bridge the gap between different eras, providing fans a tangible connection to their heroes, irrespective of when they played. Each card auction is not merely a sale; it's a gathering of like-minded enthusiasts who value the game's past as much as its present.
In an age where technology reigns supreme, and digital collectibles are becoming the norm, the allure of physical sports cards remains undiminished. They stand as a testament to a time when achievements were immortalized not in digital codes but in tangible, hold-in-your-hand formats.
Furthermore, the world of sports memorabilia offers a fascinating study into the societal evolution of the time. From the design aesthetics to the players chosen for immortalization, these cards provide insights into the zeitgeist of their respective eras. Auctions, therefore, become avenues where history is revered, celebrated, and passed on to the highest bidder.
To understand the world of sports memorabilia is to delve deep into the passion, dedication, and sheer love fans have for the game and its players. These aren't mere laminates with printed images; they're pieces of heritage, carrying forward stories of determination, skill, and moments that defined the very ethos of the sport.
In wrapping up this exploration, it's evident that while the dynamics of sports and its portrayal may evolve, the legends of the game and